As our way of thanking you for trusting us with your oral health, Clearwater Dental is thrilled to provide special offers to our patients. Our caring dentist, Dr. Leslie Spangler, and team are committed to creating smiles that are as happy as they are healthy! If you have any questions about our current specials, please do not hesitate to contact our dental office in Eau Claire, Wisconsin at 715-514-5300.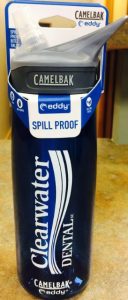 Monthly Facebook Giveaway
"Like" Clearwater Dental on Facebook, and you will automatically be entered to win a water bottle! A winner is chosen every month. Don't miss out!
Referral Rewards
For every referral you give that becomes a new patient at Clearwater Dental, you will receive a $10 gift card. We appreciate your referrals and your trust in our dental office.
$500 Cash Giveaway
Every time you refer a patient to our practice, your name will be entered in a drawing. At end of the year, we draw five names, and each of these selected five patients will receive $100 cash!